Alcohol Reactions: Alcohol Chlorination Using SOCl2
Thionyl chloride (SOCl2) in the presence of alcohols reacts to form alkyl chlorides:

This reaction only occurs with primary and secondary alcohols (tertiary alcohols will not react). Additionally, if the alcohol molecule begins with a chiral center on the carbon the alcohol group is attached to, the reaction will invert the stereochemistry (SN2 reaction):
Primary Alcohols

Secondary Alcohols

NOT Tertiary Alcohols

Stereochemistry Inversion
The reaction mechanism is depicted below: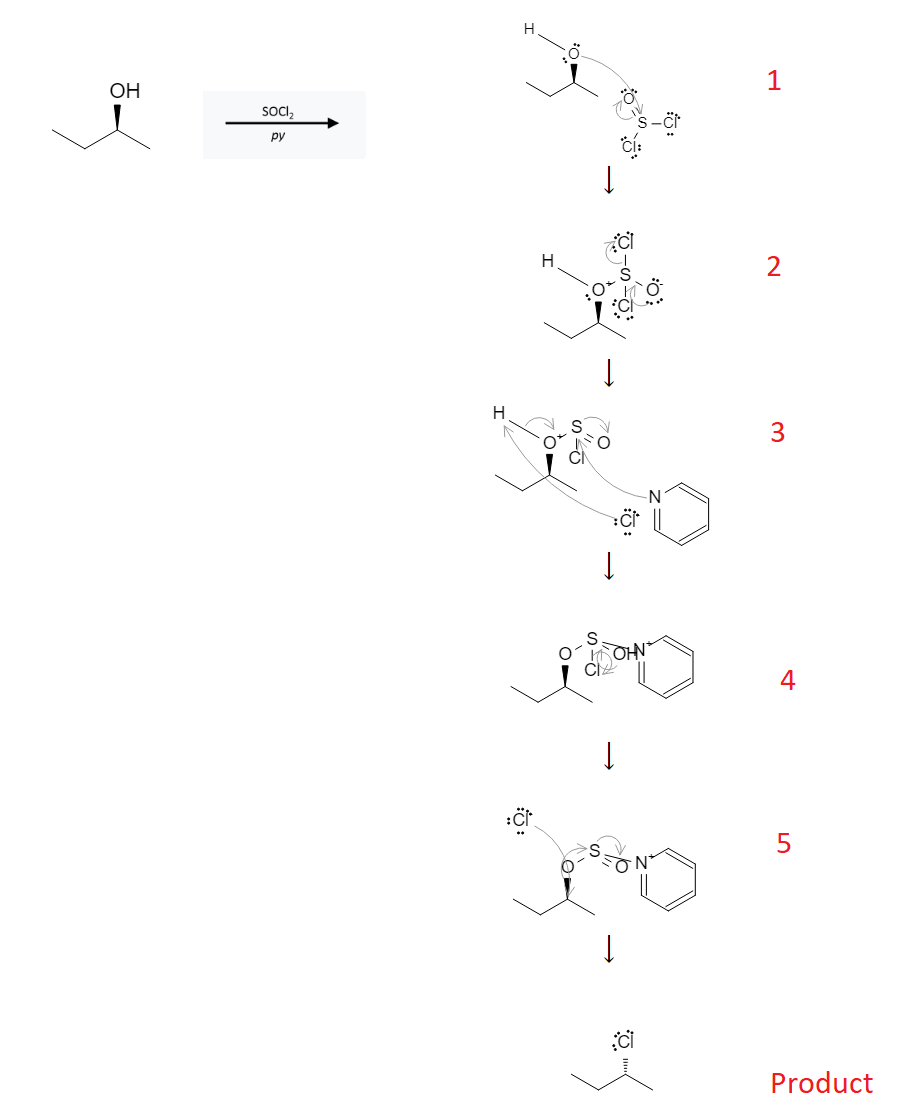 In the first step, lone pair electrons from the alcohol group attack sulfur, causing the sulfur-oxygen double bond to break giving the electrons to the oxygen.
In the second step, the free electrons on the negatively charged oxygen atom come back down to the sulfur to reform the sulfur-oxygen double bond while breaking one of the sulfur-chloride bonds.
In the third step, the newly formed chloride ion attacks the proton attached to the oxygen, breaking the oxygen-hydrogen bond and sending electrons to the oxygen. Pyridine enters the reaction and binds to sulfur, causing the sulfur-oxygen double bond to be broken again, sending electrons to the oxygen.
In the fourth step, the lone pair of electrons on the oxygen comes back down, reforming the sulfur-oxygen double bond which causes the sulfur-chlorine bond to break.
In the fifth step, the free chloride ion attacks the carbon bound to the bulky oxygen, causing the carbon-oxygen bond to break in a backside attack. This also gives the chlorine opposite stereochemistry from the oxygen that was originally bound. The sulfur-pyridine bond breaks once this happens, allowing pyridine to be regenerated in the reaction.
The reagent used for this reaction is SOCl2 and pyridine. If SOCl2 is used by itself, the reaction still occurs but the final product will have the same stereochemistry as the starting reactant.
Practice this reaction using our Reaction Solver!