Alcohol Reactions: Alcohol Protection using TMSCl
Trimethylsilyl chloride (TMSCl) along with a strong base, such as pyridine (py) or triethylamine (Et3N), in the presence of alcohols reacts to form silyl ethers:

This reaction only really occurs with primary and secondary alcohols as tertiary alcohols are pretty bulky already. This reaction is particularly helpful with synthesis reactions. For example, consider pent-4-en-2-ol below:
Synthesis Example
Alcohol Reactions: Alcohol Protection using TMSCl - image2
If we needed to brominate the alkene bond, we may be tempted to use HBr however, that would result in both the alcohol and alkene becoming brominated:

By protecting the alcohol group with TMSCl, we prevent the alcohol from reacting with HBr, allowing the reaction to proceed on the alkene:


The silyl ether is removed easily by reacting with Tetra-n-butylammonium fluoride (TBAF) in acidic conditions (H3O+):

The reaction mechanism is depicted below: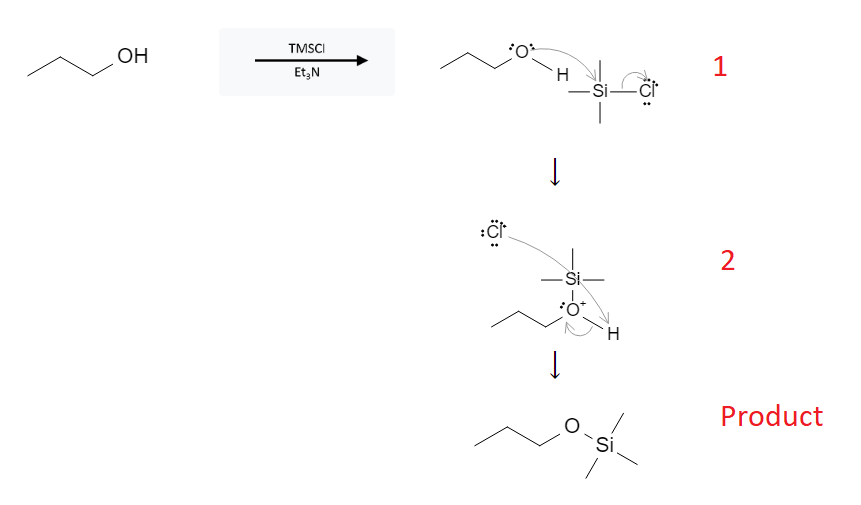 In the first step, lone pair electrons from the alcohol group attack silicon, causing the silicon-chloride bond to break giving the electrons to the chloride.
In the second step, the free electrons on the negatively charged chloride atom come back and attack the proton attached to the alcohol, allowing the electrons from the oxygen-hydrogen bond to travel to the oxygen atom.
The reagent used for this reaction is TMSCl and a strong base such as py or Et3N.
Practice this reaction using our Reaction Solver!