Alcohol Reactions: Alcohol Toslyation using TsCl
P-toluenesulfonyl chloride (TsCl), often in solution with pyridine (py), in the presence of alcohols reacts to form tosylates:

Tosylate formation plays an important role in synthesis reactions that require stereospecificity or elimination reactions. The tosylate leaving group allows for easy Sn2 reactions with halogen ions such as NaCl or NaBr. It can also be utilized for elimination (E2) reactions involving sodium ethoxide (NaOEt) or potassium tert-butoxide (t-buOK) :
SN2 Addition


Elimination (E2) Reactions*


*Notice the difference in where the double bond is formed in these two elimination reactions. The reaction using NaOEt forms the Zaitzev product, meaning the elimination occurs toward the more substituted carbon. Using t-BuOK results in the Hoffman product, where the elimination occurs toward the least substituted carbon. This is similar to the designations of Markovnikov and anti-Markovnikov learned with the Addition reactions.
The reaction mechanism is depicted below: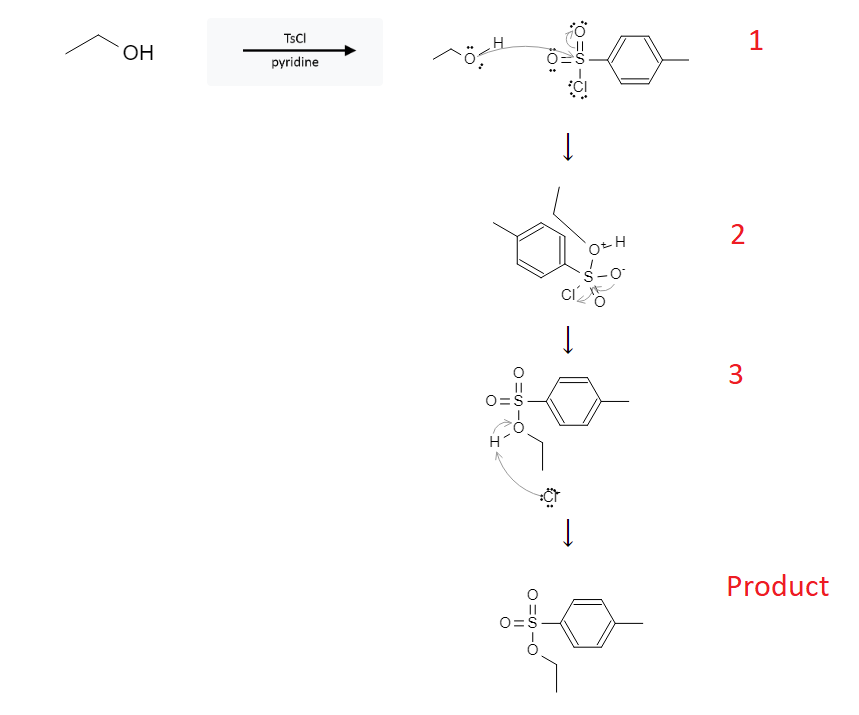 In the first step, lone pair electrons from the alcohol group attack the sulfur atom, shifting electrons to one of the oxygen atoms on the tosylate.
In the second step, the free electrons on the negatively charged oxygen atom on the tosylate group return to form a double bond with the sulfur atom, kicking the chloride ion off.
In the third step, the chloride ion returns and deprotonates the original alcohol-oxygen atom, forming the new tosylate molecule.
The reagent used for this reaction is TsCl and pyridine. Other reactions listed replace the tosylate group with the reagents added; some may result in an Sn2 substitution and some may result in an elimination.
Practice this reaction using our Reaction Solver!