Alcohol Reactions: Aldehyde and Ketone Formation from Alcohols using PCC or DMP
Alcohols reacted with pyridinium chlorochromate (PCC) or Dess-Martin Periodinane (DMP)
will result in the formation of aldehydes (primary alcohols) or ketones (secondary alcohols):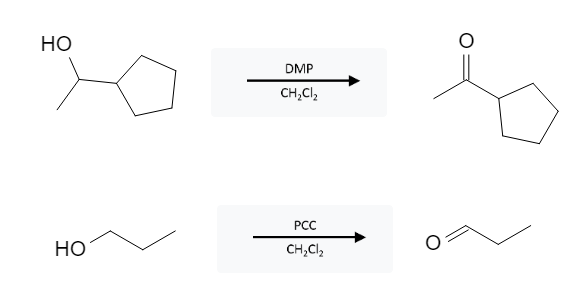 This reaction will not occur with tertiary alcohols or aldehydes. A key difference between PCC/DMP and other chromate reactions (Na2Cr2O7, CrO3 etc…) is that these reagents only oxidize primary alcohols to aldehydes, whereas the other chromate reagents oxidize primary alcohols to carboxylic acids:


The reaction mechanism is depicted below: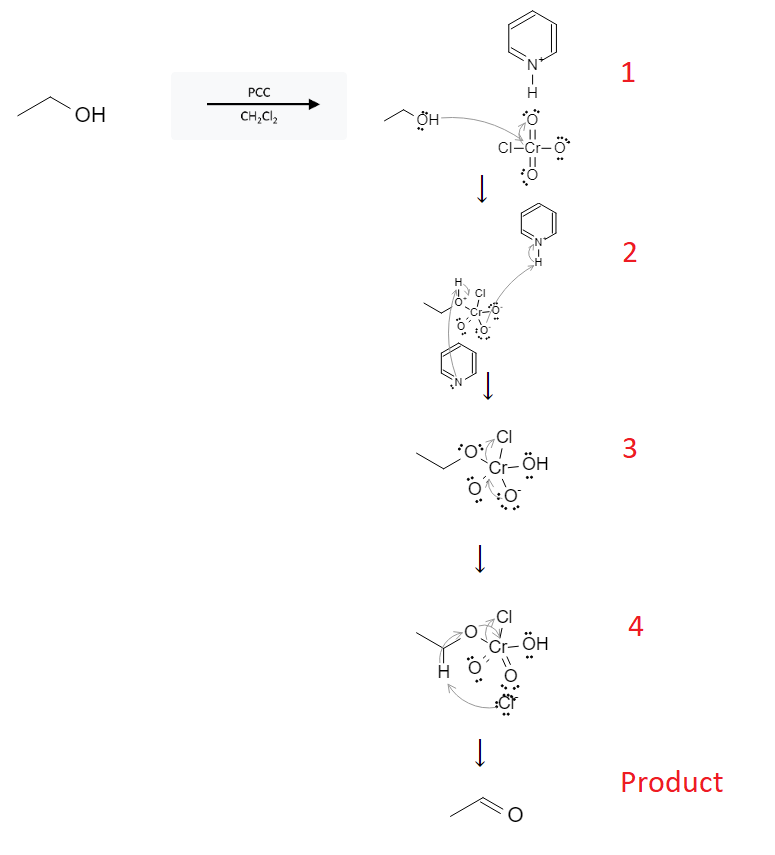 In the first step, the lone pair of electrons from the alcohol molecule attack the chromate atom, forming a bond between the chromate molecule and the alcohol molecule. One of the chromate-oxygen double bonds breaks, sending the free electrons to the oxygen.
In the second step, a pyridine-nitrogen uses its lone pair electrons to grab the proton of the alcohol-oxygen atom sending the lone pair electrons to the oxygen atom. The electronegative-oxygen on the chromate moiety attacks a nearby pyridinium ion, pulling the proton away.
In the third step, the lone pair electrons from the electronegative oxygen on the chromate moiety forms a bond with chromate, kicking the chlorine atom off, forming a chloride ion.
In the fourth step, the newly released chloride ion attacks a proton on the carbon backbone adjacent to the alcohol-oxygen, sending the lone pair electrons to form a double bond between the carbon and oxygen. This breaks the oxygen-chromate bond, releasing the chromate moiety.
The reagents used for this reaction can be PCC or DMP, either by themselves or in solution with H2O or CH2Cl2. H2CrO4, Na2Cr2O7, K2Cr2O7, and CrO3 are similar reagents but much stronger oxidizers, resulting in the oxidation of a primary alcohol to a carboxylic acid.
Practice this reaction using our Reaction Solver!