Ketone Reactions: Carboxylic Acid Formation from Methyl Ketones using Halogens
Carboxylic acids can be formed from methyl ketones using halogens (Br2, Cl2, I2), sodium hydroxide (NaOH or equivalent), followed by an acid work up (H3O+):

Aldehydes, alcohols, and ketones that do not contain a methyl group will not react with these reagents.
The reaction mechanism is depicted below using Br2. Other halogens would behave the same way: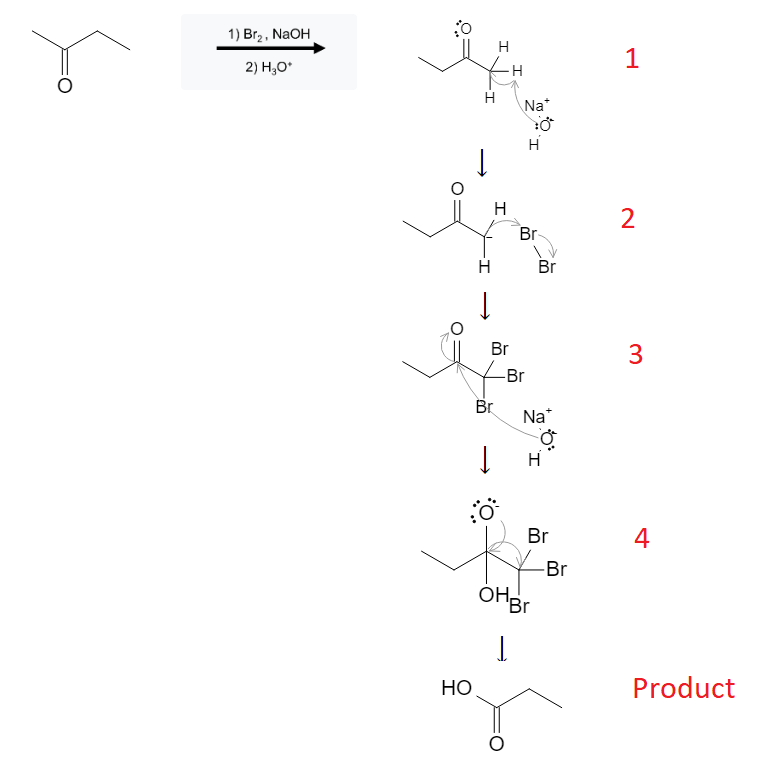 In the first step, the lone pair of electrons from the NaOH molecule attack the methyl group attached to the ketone-carbon. The OH- pulls a proton off the carbon atom, leaving it with a lone pair of electrons and a negative charge.
In the second step, the negatively charged carbanion attacks a nearby halogen molecule (represented by Br2 in this example, but could be Cl2, I2, etc…), adding a Br atom to the carbon.
Steps 1 and 2 are repeated until all hydrogens have been replaced by halogens (Br).
In the third step, the OH- group from another NaOH molecule attacks the ketone-carbon, causing the OH to attach and the ketone double bond to break and send the electrons to the ketone-oxygen.
In the fourth step, the newly formed CBr3 (or CX3) molecule is a very strong leaving group. When the lone pair electrons from the ketone-oxygen atom reform the double bond, the CBr3 bond is broken and it leaves the molecule, leaving behind a carboxylic acid. the final product
The reagents used for this reaction can be Cl2, Br2, and I2. F2 is too electronegative and small, making it not as good of a leaving group as the other three halogens. NaOH is commonly used as the base in this reaction however, other hydroxides will work such as KOH. Any acid will work for the final step, so this is represented as H3O+.