Alkene Reactions: Oxymercuration of Alkenes using Hg(OAc)2, alcohol, and NaBH4
Mercuric acetate [Hg(OAc)2], any alcohol (R-OH), and sodium borohydride (NaBH4) react together with alkenes to form ethers (R-O-R):

The entire alcohol will be combined with the alkene, represented by the letter "R". The alcohol binds in Markovnikov addition, bonding to the most substituted carbon atom. If the alkene molecule has an alcohol (OH) group, that alcohol group will react with the alkene bond forming a cyclic compound. This is known as an intramolecular reaction:
Intramolecular Reaction

The reaction mechanism is depicted below: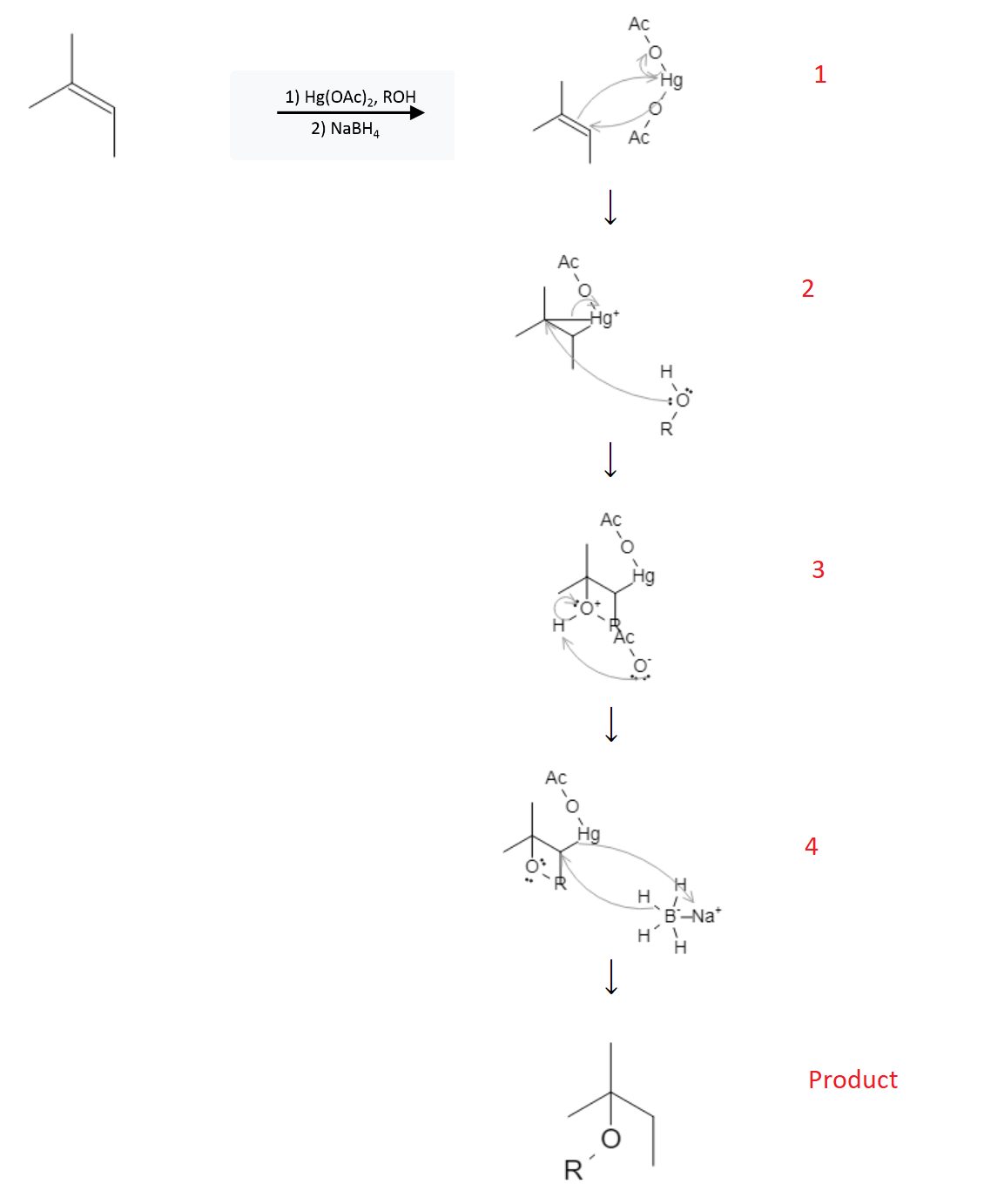 In the first step, electrons from the alkene bond react with the mercury from the mercuric acetate [Hg(OAc)2] forming a ring structure as an intermediate (mercurinium ion) and displacing when of the acetate groups (OAc-).
In the second step, the alcohol attacks the more substituted carbon in a Markovikov addition.
In the third step, the hydrogen atom that was part of the alcohol group is removed by the free, negatively charged acetate group (OAc-).
In the fourth step, sodium borohydride (NaBH4) removes the mercury atom from the alkane, resulting in a newly formed ether molecule. For more information on how sodium borohydride removes atoms, visit our Reaction Library.
The reagent used for this reaction is Hg(OAc)2, any alcohol (MeOH, EtOH, cyclohexanol, etc…), and NaBH4.