Alkyne Reactions: Alkyne Hydroboration using BH3, NaOH, H2O2
Borane (BH3), sodium hydroxide (NaOH) and hydrogen peroxide (H2O2) in the presence of alkynes react to form ketones and aldehydes:

This reaction proceeds with an anti-Markovnikov addition, resulting in the addition of a double bonded O atom on the least substituted carbon. When the carbons are equally substituted, a mixture of ketones is formed:
Aldehyde Formation

Mixture of Ketones

The reaction mechanism is depicted below: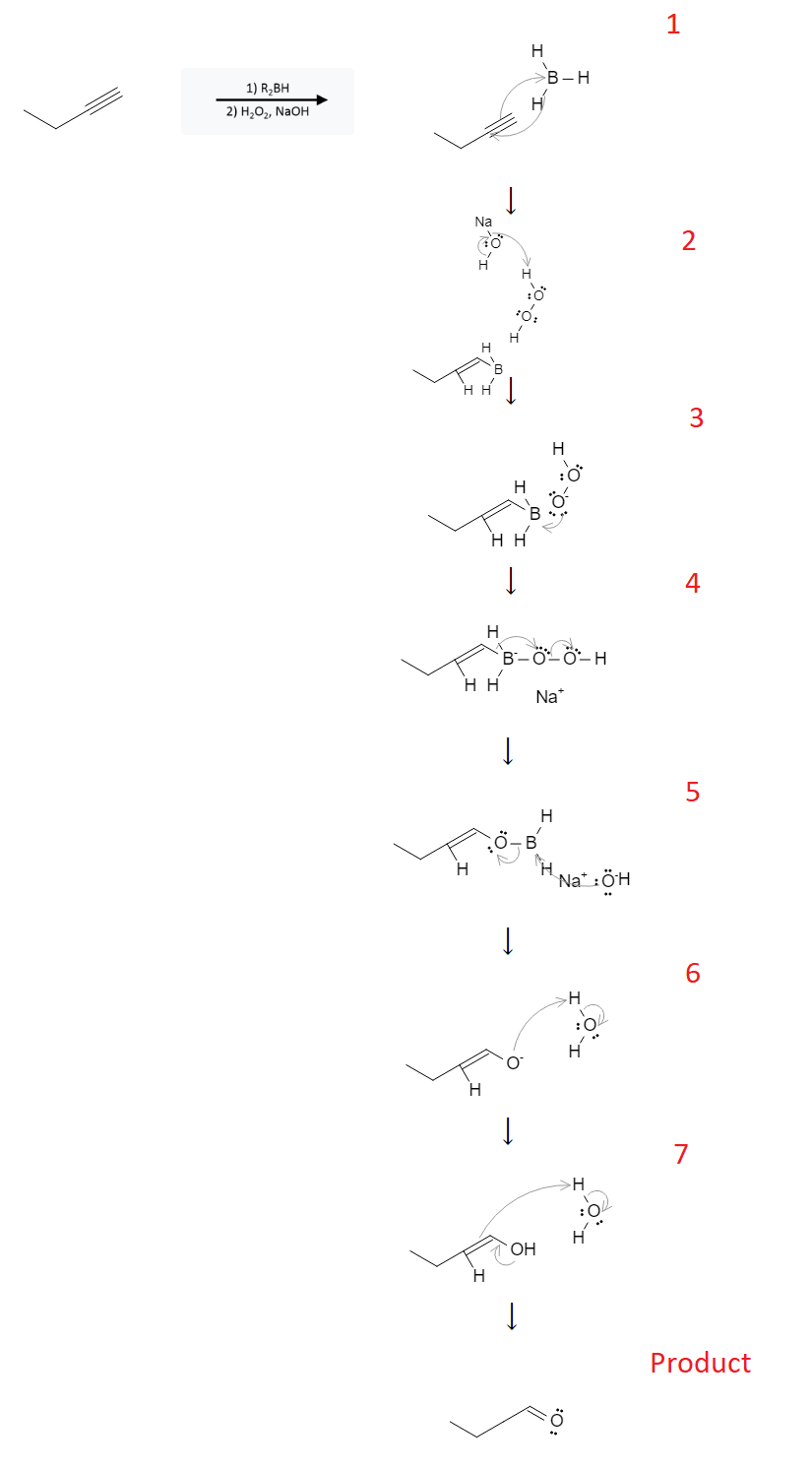 In the first step, electrons from the alkyne bond react with the boron atom on borane (BH3) to add boron to the less substituted carbon.
In the second step, hydrogen peroxide (H2O2) is deprotonated by sodium hydroxide (NaOH).
In the third step, the newly deprotonated H2O2 attacks the boron, resulting in the boron having 4 bonds and a negative charge.
In the fourth step, the carbon-boron bond breaks, allowing electrons from this bond to go to the oxygen, which then breaks the oxygen-oxygen bond from the H2O2 moiety.
In the fifth step, NaOH breaks the oxygen-boron bond, giving the oxygen a negative charge.
In the sixth step, the oxygen deprotonates an H2O molecule to form an enol intermediate.
In the seventh and final step, the enol molecule rearranges in the presence of water to form an aldehyde, in a process known as tautomerization.
The reagents used for this reaction are BH3, NaOH, and H2O2. BH3 may be substituted for R2BH or other substituted borane molecules.