Alkyne Reactions: SN2 Addition of Alkyl Halides to Alkynes
A strong base, such as sodium amide (NaNH2) can deprotonate an alkyne forming an acetylide molecule. This acetylide molecule can then be reacted with an alkyl halide (R-X) to add the carbon group (R) to the alkyne molecule:

The alkyne bond remains intact, adding the entirety of the "R" group to the acetylide end of the alkyne. For this example, the bromocyclopentane represents the "RX" group:
Cis Addition

The reaction mechanism is depicted below: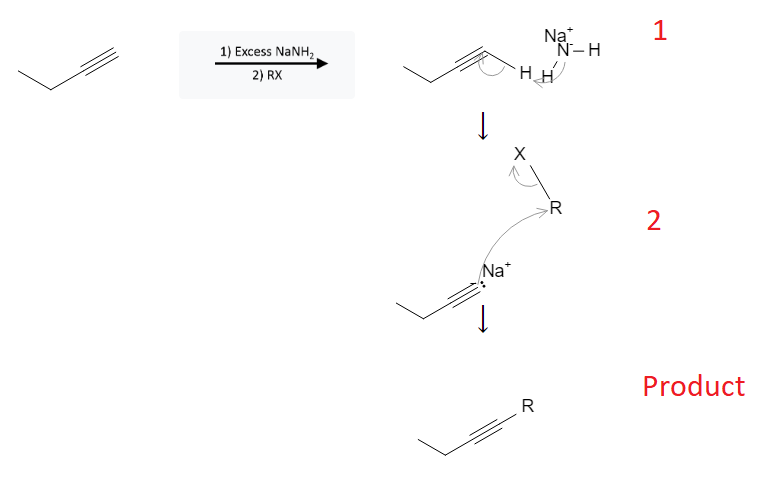 In the first step, the NaNH2 deprotonates the alkyne, forming an acetylide ion where the carbon at the end of the alkyne bond has a negative charge and a free pair of electrons.
In the second step, the newly formed acetylide ion is very reactive and proceeds to react with the carbon atom bound to the halogen (X) on the alkyl halide. This breaks the alkyl halide bond between the carbon (R) and halogen (X) allowing the alkane group (R) to be added to the alkyne bond.
The reagent used for this reaction is NaNH2 and any alkyl halide (R-X).