Ester Reactions: Formation of Carboxylic Acid from Ester using Strong Base
Carboxylic acids (and alcohols) can be formed from esters using a strong base (NaOH, KOH, etc…) and heat, then treating with an acid workup:

This reaction is a specific kind of hydrolysis known as saponification. The ester molecule is split at the "ether" oxygen, resulting in the formation of a carboxylic acid (major/desired product) and an alcohol (minor product). If the starting ester is part of a ring, the ring will be hydrolyzed and the resulting molecule will be have both a carboxylic acid group and alcohol group :
Intramolecular Saponification

The reaction mechanism is depicted below: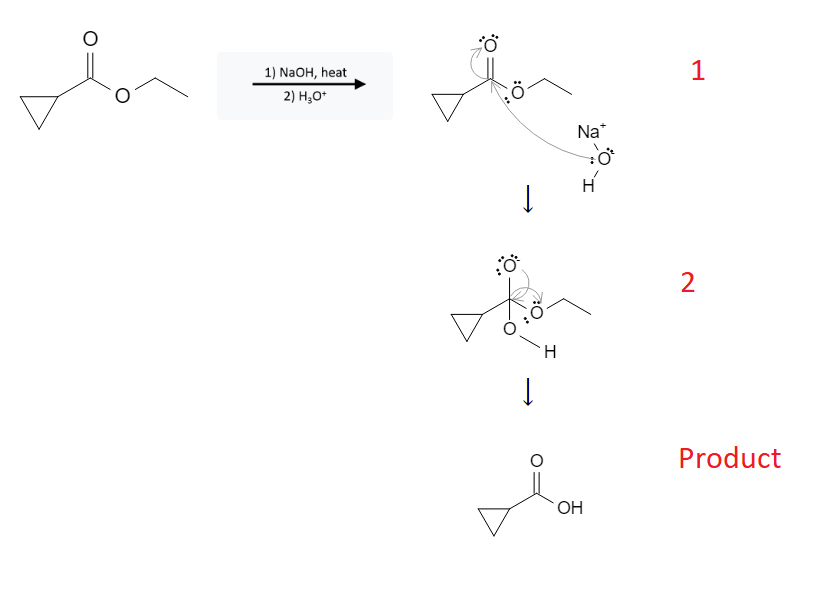 In the first step, the free electrons from the OH- attack the carbon attached to the double bonded oxygen. This then kicks the double bond electrons to the oxygen atom.
In the second step, the newly acquired lone pair electrons on the oxygen atom attack the carbon atom, reforming the double bond, and causing the single bonded oxygen to break its bond and leave the molecule.
This reaction is conducted using a strong base (NaOH, KOH, etc…) under hot conditions. An acid workup (H3O+) is performed in the second step to protonate the carboxylic acid product. This reaction is similar to treating an ester with an acid (H3O+) as it results in the same product but proceeds through a different mechanism.