Acid Chloride Reactions: Amide formation from Acid Chlorides using Amines (R2NH and RNH2)
When acid chlorides are in the presence of primary or secondary amines, they react together to form amides:
If the molecule has an acid chloride group and a primary/secondary amine group, an intramolecular reaction will occur resulting in a ring formation:
Intramolecular Ring Reaction

The reaction mechanism is depicted below: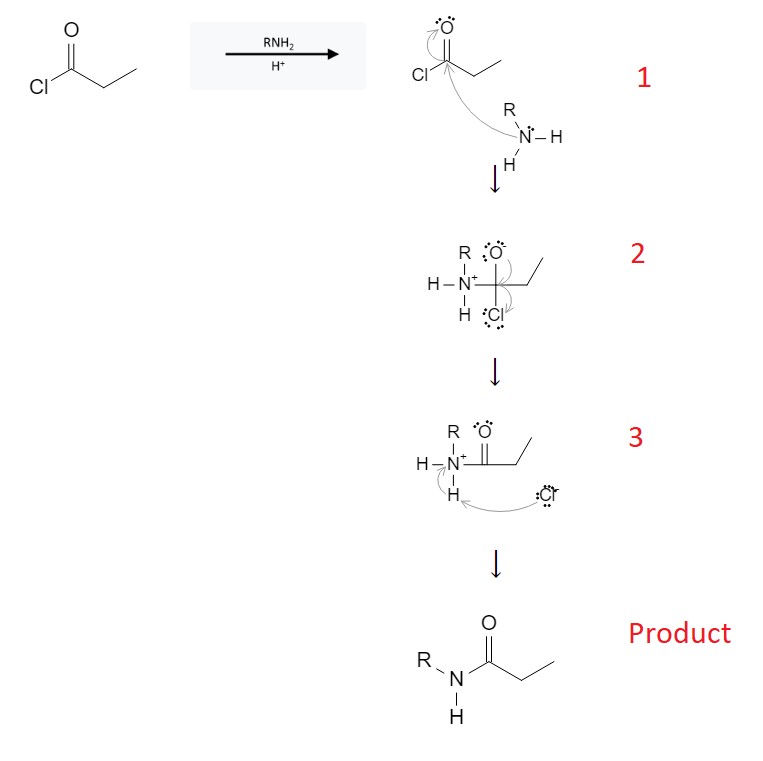 In the first step, the free electrons from the nitrogen atom on the R2NH or R2NH2 molecule attack the carbon atom, breaking the carbon-oxygen double bond and sending those electrons to the oxygen.
In the second step, the electronegative oxygen sends its electrons back to the carbon, reforming the double bond and breaking the carbon-chlorine bond forcing the chloride ion off the molecule..
In the third step, the chloride ion attacks the proton on the nitrogen atom, completing the reaction.
The reaction and mechanism proceed identically whether R2NH or RNH2 is used. The reaction is also written as taking place in an acid workup (H+).
Practice this reaction using our Reaction Solver!