Aldehyde Reactions: Enamine Formation from Aldehyde, Ketone using R2NH
Enamines can be formed from aldehydes and ketones using secondary amines (R2NH):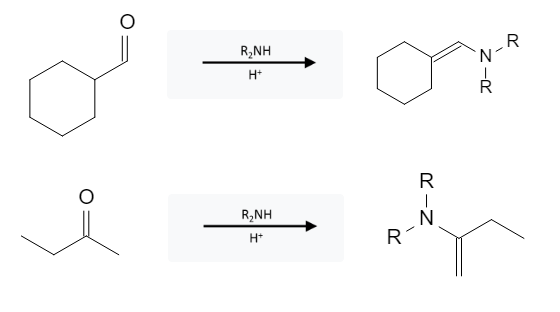 The "R" groups are usually pretty small and may be denoted as Me2NH or Et2NH (or something similar).The reaction proceeds in an almost "anti-Markovnikov" fashion where the double bond is rearranged to the least substituted carbon atom:

The reaction mechanism is depicted below: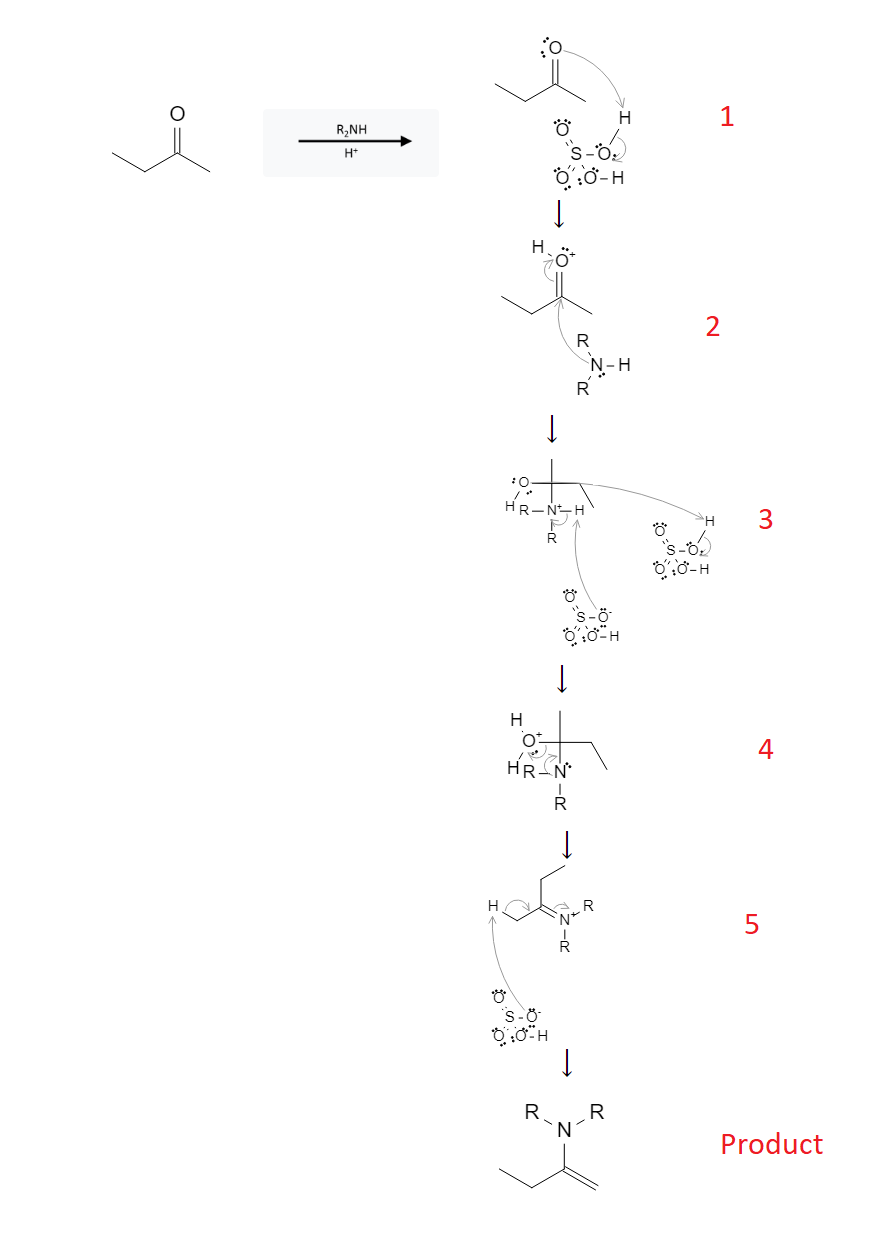 In the first step, the lone pair of electrons from the ketone-oxygen pull a proton away from the acid (H2SO4 in this case), causing the electrons to return to the acid molecule, forming the conjugate base (HSO4-).
In the second step, the secondary amine approaches the ketone bond and the free electrons from the N atom attack the ketone-carbon atom, causing the carbon-oxygen bond to break sending the electrons to the positively charged O atom.
In the third step, the lone pair electrons on the O atom attack another H2SO4 molecule, thereby deprotonating it and forming another conjugate base,. Meanwhile, the conjugate base HSO4- deprotonates the nitrogen atom sending the lone pair electrons to the nitrogen atom.
In the fourth step, the nitrogen electrons attack the carbon atom, forming a double bond between the two atoms. The oxygen-carbon bond is broken, sending the electrons with the O atom as it leaves as an H2O molecule.
In the fifth step, the conjugate base HSO4- attacks a proton on the least substituted carbon that is attached to the ketone-carbon atom (Step 2). This causes the free electrons to form a double bond between the two carbons while breaking the carbon-nitrogen bond, sending those electrons back to the nitrogen atom.
There are many reagents that fall under the R2NH umbrella, but it is commonly small secondary amines such as dimethylamine or diethylamine.